Pam leaves NASA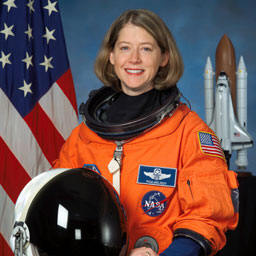 STS-120 Commander Pamela Melroy. Photo Credit: NASA
Pamela Melroy Leaves NASA


Pam will be going to work for Lockheed Martin to work on the Orion project. (Orion is going to be the replacement to the current shuttle.)

July 24, 2009

John Yembrick Headquarters, Washington

Nicole Cloutier-Lemasters Johnson Space Center, Houston

RELEASE: 09-176

VETERAN ASTRONAUT PAM MELROY LEAVES NASA

HOUSTON -- NASA astronaut Pam Melroy is leaving the agency to take a job in the private sector. Melroy, a retired Air Force colonel, is a veteran of three space shuttle flights and the second woman to command one.

"Pam has performed superbly as an astronaut," said Steve Lindsey, chief of the Astronaut Office at NASA's Johnson Space Center in Houston. "She has flown three highly successful space shuttle missions and contributed in several other technical areas during her 14 years of service with the Astronaut Office. Her leadership as the commander of the STS-120 space shuttle mission paved the way to six-person crew operations on the International Space Station."

"As a classmate and a friend, I feel privileged to have served beside her. We wish Pam the best of luck in her new career -- she will be missed," Lindsey added.

Melroy flew on shuttle missions STS-92 in 2000, STS-112 in 2002 and STS-120 in 2007. She served as pilot on her first two flights and commanded the third. She has logged more than 924 hours in space, contributing to the construction of the space station on every mission. She was selected as an astronaut in December 1994.

Melroy made history with Expedition 16 Commander Peggy Whitson in October 2007 when the hatches between the space shuttle and space station were opened. They became the first female spacecraft commanders to lead space shuttle and space station missions concurrently.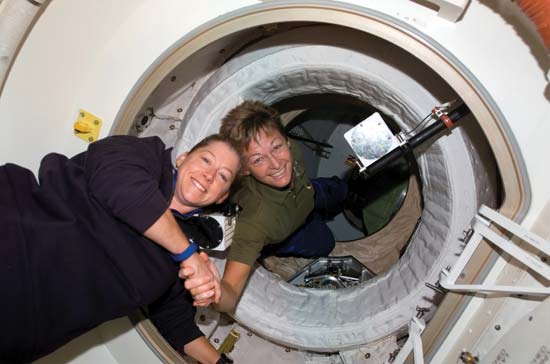 U.S. astronaut Peggy Whitson (right), Expedition 16 commander, greeting astronaut Pam Melroy, STS-120 commander, after the opening of the hatch between the International Space Station and the space shuttle Discovery, Oct. 25, 2007.
---