William Anderson Bass High School
Atlanta's population reached 110,000 in 1920. In order to accommodate the growing number of school aged children, a classroom building and auditorium were built at 1080 Euclid Avenue to house one of Atlanta's first junior high schools. Bass Junior High was converted to a high school in 1948 and the gymnasium was built in 1949.
The school's teams were known as the "Blue Wave" and later as the "Warriors" and were clothed in the school colors of blue and white.
The buildings, which in recent years served as Mary Lin Elementary's temporary location, were used by the Atlanta School Board until mid-1996.
Winter Construction/Properties Receives Award for Historic Restoration of Bass High School Lofts
The Winter Construction Company and Winter Properties yesterday received The Georgia Trust for Historic Preservation's coveted 1999 Rehabilitation Award for its restoration of Bass Loft Apartments in Atlanta. The award was presented at the Trust's Annual meeting in Augusta, Georgia. The Winter Construction Company was the general contractor on the project, which was developed by Winter Properties (both with The Winter Group of Companies). The architect for the project was Surber Barber Choate & Hertlein, who shared the award honors.
The Restoration Award recognizes exemplary restorations of historic buildings in the state of Georgia. As defined by the award category, a restoration project returns a building to an earlier condition and appearance that resembles the building's original purpose.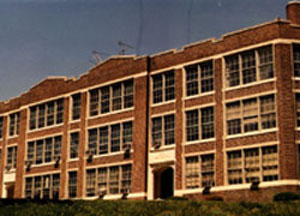 Built in 1923 as the boys high school for the City of Atlanta, Bass High School is located in the heart of Little Five Points—a thri­ving re­si­den­tial and re­tail neigh­bor­hood which has un­der­gone an ex­ten­sive re­vi­tal­i­za­tion ef­fort. The 122,000-square-foot prop­erty con­tains 85 loft apart­ments laid out in the for­mer class­rooms and au­di­to­ri­um, in­clud­ing 8,000 square feet of gal­lery space. To pre­serve the char­acter of the build­ing, exist­ing floors, doors, and win­dows and even a num­ber of black­boards were left intact. The school's gym­na­sium houses 18 lar­ger units. Thir­ty new units were also built on site. The ar­range­ment of the exis­ting and new build­ings cre­ates an out­door court­yard with a swim­ming pool for the use of ten­ants and their guests.