Sir Ed blasts road to pole
27 November 2004
By TIM PANKHURST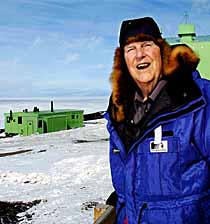 Sir Edmund Hillary, who drove every one of the 2011 kilometres from Scott Base to the South Pole on a tractor, is appalled the United States is building a road across Antarctica.
The world's greatest living explorer is in the twilight of his long and distinguished life but is still an imposing and passionate man.
"I think it's terrible," he says of the project now half-way towards its objective. "I'm very strongly opposed to it. I think they ought to continue using their aircraft as they have done for years and years. I have to admit I don't wish them well in their success in getting up and through the polar plateau. It's about destroying the journey to the Pole in using huge vehicles to plunge through snow and ice and crevasses to get there."
The ambitious project is in its third season. The directions are simple. Head east from McMurdo Base, angle across the Ross ice shelf, head up the Leverett Glacier and drive due south to the Pole. The reality is that the 1600-kilometre journey is across the highest, coldest, driest and windiest continent in the world. Already tonnes of dynamite have been used to blow up crevasses and fill them with mined snow. The aim is to markedly reduce the number of polar flights, due to reach an all-time high this summer of 333, to maintain the huge base which houses 242 people.
The increasingly frail Sir Ed, 85, arrived in Antarctica on Thursday for almost certainly his last visit.
Antarctica New Zealand chief executive Lou Sanson, anxious not to upset the Americans at nearby McMurdo who give huge support to Scott Base, said all 30 Antarctic signatories, including New Zealand, supported the project. That was confirmed at a treaty meeting in Cape Town in June. It was wrong to call it a road, he said. It was "a proof of concept trial of a South Pole traverse capability".
Wilderness values concerning Sir Ed were recognised and reduced flights would cut environmental impact. Sir Ed, never one to hide his views and exert his formidable will, is unconvinced. He does owe the Americans a debt in other ways though.
The Scott Base site at Pram Point on Ross Island was proposed by the US and Americans provided a bulldozer to prepare the site. It was from here that the 1957 Trans-Antarctic expedition was launched. New Zealand makes its claim for a slice of Antarctica from here.
In 1956-57, and into the summer of 1957-58, hunkered down at the newly built base, Sir Ed's 23-strong party supported the International Geophysical year with scientific observations, dog sledged hundreds of kilometres, surveyed the Dry Valleys for the first time and charted vast areas.
His target, though, was always the South Pole. His role was to drive food and fuel depots 1126 kilometres miles toward the Pole and await Sir Vivian (Bunny) Fuchs who was crossing the continent from the Weddell sea. "We would have had to sit there and wait for possibly a month for Bunny to arrive and I simply wasn't prepared to do that."
On Boxing Day 1957, he radioed Scott Base: "We are heading hell-bent for the Pole, God willing and crevasses permitting." He thus became only the third man to travel overland to the Pole, after Amundsen in 1911 and Scott in 1912.
Reminiscing yesterday in the green mess hut where it all began, the only original building left at the base, Sir Ed laughed that he was rather prone to dramatic statements. His winter in the hut was no hardship, there was plenty of fresh lamb in a snow cave, no shortage of wine and parties every Sunday night. "There was always laughter and cheerfulness – we had a very happy and convivial time." Sometimes the party would become too boisterous "and the picture of me emerging in my underwear full of fury at all the noise was something to behold".
Today, he will visit historic huts at Cape Evans (Scott) and Cape Royds (Shackleton). Tomorrow's 25th anniversary of the Erebus crash, when all 257 people aboard Air New Zealand flight TE901 were killed, will be particularly poignant. Sir Ed was to go on the flight as a commentator but was called away to the US. His close friend, climbing and polar companion Peter Mulgrew took his place.
The Dominion Post