This page is dedicated to Herb Miller whose service along the
Siegfried Line
in WWII helped the Allies defeat one of the greatest threats, ever, to American values of freedom and democracy.
Francis Herbert Miller, Jr.
Profession:
Personalized Gold & Porcelain Restorations,
Inlays, Crown & Bridge
Miller Dental Laboratories, Inc.
New London, Connecticut
Lifespan: August 13, 1924–April 23, 2012
Nationality: American

Tuesday, October 23, 2007
Final New Hampshire Purple Heart Trail Sign Now in Place
By Kipp Miller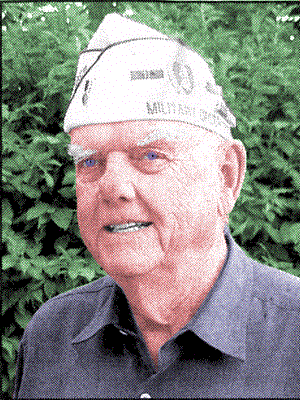 F. Herbert Miller of New London,
Purple Heart recipient.
NEW LONDON, NEW HAMPSHIRE, U.S.A. – The twentieth, and last, of the designated New Hampshire Purple Heart Trail signs honoring local Purple Heart recipients. living and dead, was recently installed on Route 4 in Danbury.
The twentieth sign bears the name of F. Herbert Miller, a World War II U.S. Army squad leader who earned his Purple heart and two Bronze Stars during fierce fighting In France, Holland and Germany. Wounded over sixty years ago, Miller is still alive and well at 83, living In New London, but most of the other soldiers honored on the remaining nineteen trail signs perished in conflicts including WWII, Korea, Viet Nam, Desert Storm and Iraq.
"It's all about sacrifice. George Washington wanted to recognize that," said David Smith, a State legislator who is also Sr. Vice Commander of Chapter 395 of the Military Order of the Purple Heart, and a Purple Heart recipient for combat wounds incurred in Viet Nam. "The Purple Heart military award's origins can be traced directly to General Washington himself. In 1782 he established this award for troops who had exhibited, in his own words, 'unusual gallantry and extraordinary fidelity and essential service.' Only three of these original Purple Hearts, all cloth patches, were awarded that year.
"In l932, to honor Washington's memory and military achievements, the award was reintroduced into the military, with eligible soldiers being those veterans from the Civil War through World War I who had received combat-related injuries or the Meritorious Service Citation Certificate (awarded during WWI). Since l932, the Purple Heart has been given to any U.S. Armed Services member wounded or killed as a result of combat-related injuries."
The idea for creating a Purple Heart Trail was onginally proposed at the 1992 Convention of the Military Order of the Purple Heart. The primary objective of the trail was to establish a visual memorial along selected major and secondary highways in all fifty states and U.S. territories. To date, thirteen states, induding New Hampshire, Maine and Vermont, have signs in place that not only inform passing motorists that they are on the Purple Heart Trail, but identify and honor deceased and living Purple Heart recipients by name and conflict. Six more states will have their signs up by the end of 2007.
As stated on the Purple Heart's official website (www.purpleheart.org), the automobile and the Interstate Highway System represent tangible symbols of our freedom: the ability to get up and go anywhere, anytime. While taken for granted by so many, this and so many other freedoms we enjoy as Americans have been earned through the sacrifice of millions of Americans who have shed their blood, and the many who have died in the defense of freedom and liberty. The signage was intended to be a reminder that freedom is not free and to stimulate thought and discussion among adults and children, alike, in contemplating the bountifuI heritage enjoyed by all Americans as part of their [the Purple Heart recipients'] legacy.
In New hampshire, the Purple Heart Trail runs on portions of Routes 95 and 4, stretching from Portsmouth to Lebanon. In all, there are twenty signs in place honoring New Hampshire Purple Heart recipients. The New Hampshire signs, authorized in 2004, were limited for budgetary reasons to twenty. The trail was officially dedicated on Nov. 11, 2005.
---

Route Honors N.H. War Wounded
By Brianne Goodspeed, Valley News Staff Writer
Published October 21, 2007
In August, a sign bearing the name of 83-year-old F. Herbert Miller, who was awarded a Purple Heart in World War II, was erected along Route 4 in Danbury.

Miller's sign sits about a half-mile north of the sign honoring Army Sgt. Daniel Gionet, a 24-year old Pelham native who was killed on June 4, 2006, when a bomb exploded during combat operations in Baghdad.

Though their tours of duty were separated by more than six decades, the men's sacrifices are linked by the Purple Heart Trail, which stretches from Lebanon to Portsmouth, N.H., along Route 4 and parts of Interstate 95. The trail recognizes members of the armed services killed or wounded during combat.

"Riding down the road, the majority of people take for granted the number of wars we've had. It's why they're going down the road free," said Miller, who lives in New London.

A squad leader in the Army, Miller first saw combat in Nennig, Germany, in January 1945. After two weeks of fighting, Miller said, his battalion had a 70 percent casualty rate.

Miller was wounded two months later, on March 12, 1945, near the Rhine River, after crossing into Germany's Ruhr Valley from Holland, he said.

"I took shrapnel which severed nerves in my left arm," he said.

Miller was operated on at a hospital in England about a week later and was awarded the Purple Heart while recovering from surgery. In addition to the Purple Heart, which is awarded for combat-related wounds, Miller was awarded two Bronze Star medals.

When he returned to the United States, Miller spent three months at the Atlantic City Hospital in New Jersey before returning to his home in New York. He owned a dental laboratory in New London, Connecticut, before moving to the New London in New Hampshire about 35 years ago.

(Remaining text not shown.)
The Purple Heart Trail grew out of concern in the early 1990s that as memories of the Vietnam War faded and more World War II and Korean War veterans died, public awareness of military sacrifice would decline, according to state Rep. David Smith, D-Nashua.
Fifteen states, including Vermont and Maine, now have Purple Heart Trails, but New Hampshire is the only one that bears individuals' names.
Smith said that emblazoning names on the signs started as a fundraising effort because, although the New Hampshire Legislature approved the trail, it didn't fund the $4,000 project. Smith said that, in some cases, Purple Heart recipients buy the signs themselves at a cost of $250 to support the organization and raise public awareness, and in other cases, families buy them to honor loved ones.
Smith said that recent casualties in the Middle East have given the trail a new sense of immediacy.
"The importance has increased significantly with the war in Iraq," Smith said.
In addition to Gionet, a sign in Durham bears the name of Timothy Gibson, a Marine corporal killed in Iraq in a helicopter crash on Jan. 26, 2005. Gibson, 23, was from Merrimack.
A sign honoring Vietnam veteran Hasting Rigollet of Andover was also erected earlier this summer near the intersection of routes 4 and 11 in Andover.
"I want people to be aware of what that sign stands for," his wife, Gina Rigollet, said yesterday. "It's a reminder of peace and freedom, life and death, bravery and sacrifice. With everyone's busy lives, that gets forgotten."