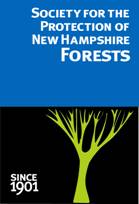 Sept. 28, 2004
Contact: Jim Graham (603) 224-9945 or
Susanne Kibler-Hacker (603) 224-9945
Merle Schotanus Named Conservationist of the Year
Former state representative lauded for leadership at state and local levels
Merle Schotanus, of Grantham, a longtime leader of New Hampshire 's conservation community, has been honored as Conservationist of the Year by the Society for the Protection of New Hampshire Forests.
Renowned for his local and statewide land protection achievements, Schotanus most recently spearheaded efforts to protect the 428-acre Donas J. and Margaret Reney Memorial Forest in Grantham. Working with private citizens, local officials and the Forest Society, Schotanus rallied support to protect one of the premier forest reservations in the booming Lake Sunapee area. The new Forest Society property was dedicated at a celebration in the summer of 2003.
Having served seven terms as a state representative, from 1985 to 1998, Schotanus was an influential member of the House Appropriations Committee; and a leading advocate for the University of New Hampshire Cooperative Extension Service and the state Division of Forests and Lands.
In 1978, he was honored as both New Hampshire and New England Tree Farmer of the Year. And from 1979 to 1982, he served as president of the New Hampshire Timberland Owners Association, where he helped transform the organization from a group of county chapters into a strong, statewide voice for forestland owners and the forest industry.
The Forest Society recognized Schotanus at its 103rd annual meeting recently in Cornish.
"From the floor of the Grantham Town Hall to the floor of Representatives Hall; from growing trees on his own land to growing grassroots conservation efforts statewide; from winning elections to winning the hearts and souls of his neighbors in the name of conservation, Merle Schotanus stands out for his decades of dedication to New Hampshire's environment," said Jane Difley, President/Forester of the Forest Society.
Last year, Schotanus became a charter member of the Granite State Conservation Voters Alliance, an independent, bipartisan effort to educate New Hampshire voters about the candidates' positions on key environmental issues.
Founded in 1901, the Society for the Protection of New Hampshire Forests is a 10,000-member, nonprofit organization that has helped protect more than one million acres. Visit www.forestsociety.org.