THE WALL STREET JOURNAL
Ken Follett Wraps Up 'Century Trilogy'
By Lucy Feldman Updated Aug. 28, 2014 4:33 p.m. ET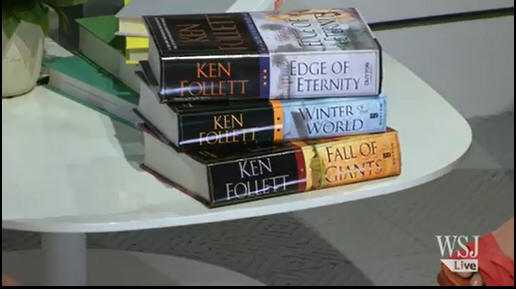 In the age of Twitter and fractured attention spans, one best-selling author has just completed a work that runs for more than 3,000 pages.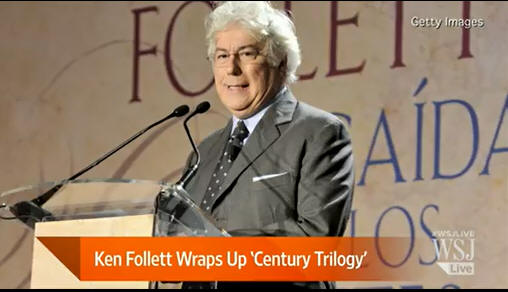 Ken Follett's latest project is the "Century Trilogy," a set of historical novels spanning World War I through the fall of the Berlin Wall, told through the lives of five families. On Sept. 16, the final book in the series, "Edge of Eternity," will be published world-wide. It opens with the German secret police in 1961 and sweeps through the Cold War and the civil-rights movement, ending in 1989. The novel's length doesn't doom it to becoming a door-stopper: Mr. Follett has sold over 150 million books in 33 languages in more than 80 countries.
"I think that's the most interesting question about this, when everything—short chapters, short books, 140-character messages—are the norm," said Brian Tart, president and publisher of the Penguin Group imprint Dutton, the trilogy's publisher. His explanation: "Something literally seems to happen on every page."
That translates into a lot of moving parts—"Edge of Eternity" runs for 1,098 pages, prefaced by a five-page cast of characters. After more than two decades of producing jumbo-size books, Mr. Follett has honed an outlining, drafting and revising process that entails a spreadsheet to track characters' lives, experts to preserve historical accuracy and three-ring binders in which he reviews each page of a draft alongside comments from his editors and consultants.
The first two installments—2010's "Fall of Giants" and 2012's "Winter of the World"—both made their debut at No. 1 on American, Spanish, Italian, Dutch and German best-seller lists and have sold 12 million copies. The trilogy is being made into a television series by Sony Pictures and ABC. Fans are counting on the 65-year-old author to keep up the pace. "Your age worries me," one reader wrote, "and I hope that you left rough drafts that someone could finish in case anything happens to you or you get senile. I really don't want to be left hanging." Mr. Follett attributes his global appeal in part to a lack of "parochial" attitudes: "I'm Welsh, and nobody thinks that Wales is the center of anything," he says. His "Pillars of the Earth" was named the most widely read book in Spain in 2010 and was voted the third most-popular book in Germany in 2006, after the Bible and "The Lord of the Rings."
Barbara Follett, the author's wife and chief executive of his company, the Follett Office, says with the 2008 publication of the "Pillars" sequel "World Without End" her husband's work exploded into a "very big" business. Before that novel came out, their office was in the former barn and pig stables at their home in Stevenage, in southeast England. Today, the enterprise has a staff of 24, who occupy an entire floor of a building the Folletts own—a space about eight times as large as their original office. To cut down on Mr. Follett's travel for publicity, there are ambitions to add a media center where he could do interviews.
The Folletts still have the property in Stevenage, where Mrs. Follett was once a member of parliament and where a piece of the Berlin Wall rests in the garden—a gift from the author's German publisher. They also have a beach house in Antigua and a London home they are selling for a larger place.
The author estimates his net worth at $50 million. Mr. Follett's U.S. sales are so big, they affect Dutton's overall financials, Mr. Tart said. "We don't get to publish Ken every year, so when we do publish Ken, we're always expecting to have a very strong, successful year. His sales certainly make a difference."
Talking with Mr. Follett is like taking a class in writing popular fiction (which readers can do on his website). Two-and-a-half pages of exposition is two too many, he warns. He also advises developing the reader's investment in a character by having someone love her and including only what's believable (an extramarital affair for President Kennedy, but none for Bobby). "Many, many writers write what pleases them and hope in a vague way that it will please somebody else," he says. "Every page I think: What will the reader think of this? Will the reader believe this could happen? Will the reader care about this? Will the reader want to know what happens next?"
Does the author, who also is known for spy thrillers, ever wish to try a more literary style? "Hell, no," he wrote in a recent "Ask Me Anything" session on online forum Reddit. "I respect writers who experiment with the language and with the novel form, but it's not my bag."